Best Roofing Material and Roofer in Fort Wayne, IN
Choosing a roofing material is one of the most important home improvement decisions you'll make. Why? The roof on your Fort Wayne, IN, home is the largest exposed plane and must stand up to all weather extremes for decades. For this reason, it's not only important to choose a durable roof material, but also a competent and experienced contractor who can install it properly.
In this article, we will be providing information on the different types of roofing materials, choosing the best one for your home, and how to pick the best roofing company in Fort Wayne, IN. We will also be touching on the topic of what you would ask your roofers as well as the cost.
"In Fort Wayne, IN and the surrounding regions, Key Exteriors, Inc. provides the finest value and expert installation for replacement windows, siding, and roofing. Thousands of homes in our community have benefited from our exclusive product lines and services since 2003. Integrity, great goods, world-class customer service, and skilled installation are all hallmarks of Key Exteriors, Inc. Call us today at (260) 492-8062 to schedule your in-home consultation."
The different types of roofing materials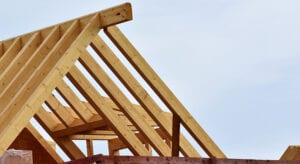 Shingles are roofing materials made of asphalt, rubber, or synthetic materials. They come in a variety of different colors and shapes to match your home's aesthetics. The most popular type is the three-tab shingle which has been around for over 100 years. This roofing material is known for being easy to install, durable and affordable. This form of roofing is the most common roofing material for residential roofers.
Metal roofs typically outlast most other types of roof materials. These roofs are customizable in that you can choose from shingles or panels and can have them painted to your color specifications. The downside to metal roofing is that they are expensive and difficult to install.
An engineered slate roof will give your home a beautiful, long-lasting roof that will set your home apart. These roof types are very durable and require little maintenance. These roofing materials also come in a variety of colors, like black or chocolate brown. The downside to this roof is that installation can be expensive because you have to tear off the old roof first. Benefits of having an engineered slate roof are:
Engineered slate is one-third the weight of traditional slate.
15 color options as varied as those in nature.
Water, wind, fire, and storm-resistant.
The beautiful and sustainable roof at an exceptional price.
A small percentage of homes have flat or low-sloped roofs. The roof material is usually metal. Flat roofs are very affordable and easy to install, but they must be replaced regularly because of the risk of leaks or water damage. Both flat and low-slope roof options can include EPDM Rubber, PVC, and TPO.
How do you choose the best roofing material for your home?
There are roofing materials made of asphalt shingle, metal roof panels, and concrete tiles, and choosing the right one may not be that easy. Depending on many factors such as climate, cost, etc, here are some tips on how to choose the best one for your home.
Choose overall durability for the best roofing. You should never forget the importance of a roof when deciding on what material to use for your new home. A good roof will last you many years and provide protection from any kind of weather, so it's important to make sure that whatever type you choose is going to be up for this task!
Evaluate cost and budget. For obvious reasons, cost should be considered while deciding on the best roofing material. As a home builder, you have a specific budget in mind, and it's critical that you stick to it. It's also crucial to avoid low-cost roofing options that can end up costing you more money in the long run. Cheaper materials may not be as durable or high-quality as more expensive materials, necessitating more frequent replacement or repairs. Prepare to make a significant financial investment in a roofing material that will endure as long as you want it to. Also, keep in mind that compromise is possible.
Consider Aesthetics. Your roof will undoubtedly alter the appearance of your home, so take some time to select a material that is pleasing to the eye. The appearance of a ceramic tile roof differs from that of aluminum shingles. Because of their neutral black color, asphalt shingles, on the other hand, complement a wide range of homes. Before deciding on a roofing material, consider the external paint colors and materials. Consult family or friends if you're having problems deciding what looks good. A local roofing dealer or your contractor can also show you samples of roofing materials.
Keep in mind the dangers of flammability and other hazards. The best roofs will have low flammability levels, offer the most protection from fire and other hazards. These include metal or slate roofing material which are both resistant to these dangers, as well as clay or ceramic tiles that can be installed for a lower cost than more expensive materials like concrete. However, if you're looking for something even cheaper there is an option in asphalt shingle roofs that provides some level of resistance against heat by adding a special coating such as one with flame retardant chemicals built into it (these types of coatings may need to be reapplied periodically).
Consider the installation. When it comes to roofing materials, many individuals overlook the installation procedure. However, it is a significant consideration. When it comes to installation, the weight of your materials is the most important consideration. Slate and metal roofs are the heaviest and most difficult to install in general. The integrity of your home may be jeopardized if your roofing material is excessively heavy. Roofs that are too heavy might cause harm to the infrastructure and, in the long run, structural damage.
The roof of your home is what protects you from the rain and snow, keeping you dry when these outside elements get too intense. When deciding on material for this important part of your new place to live, make sure to prioritize quality over anything else so that it will last as long as possible. Consider how much money you are willing or able to put into renovating later down the line before choosing materials and make an informed decision about which ones minimize repairs in general.
At the end of the day, consulting with professionals who know their stuff such as roofing companies in Fort Wayne, IN ensures that everything goes smoothly without any hiccups along the way.
How do I pick a good roofing company?
Here are 8 tips that will guide you to finding roofing companies in Fort Wayne, IN that, are suited to your needs:
Obtain local recommendations.
Look for the manufacturer's name.
Examine the Better Business Bureau's (BBB) ratings.
Obtain a comprehensive warranty.
They should be concerned about your safety.
Verify that they have the necessary licenses and insurance.
Make a deductible payment.
Take care of their own claim.
So, how much does a new roof cost in Fort Wayne, IN?
This will depend on roof size, roof material, and the roofing company you hire.
The average roof replacement in Fort Wayne, IN costs between $300-$500 per square for a metal roof and about $400-600 for asphalt shingle roofs. Roofs are an important part of your home that should be taken care of with the best roofing company.

Our installers are highly trained and experienced as skilled roofing contractors. In fact, during the course of their employment, our average roofing crew has installed over one million square feet of roof materials. So, whether you choose metal or asphalt roofing, you can rest assured that the job will be done correctly and quickly.
Contact Key Exteriors today to learn more about the roofing options and installation services offered to Fort Wayne, Indiana, residents. Vinyl siding, replacement windows, and other home renovation materials are also available and installed by us.