Testimonials
Here's what our customers are saying about us.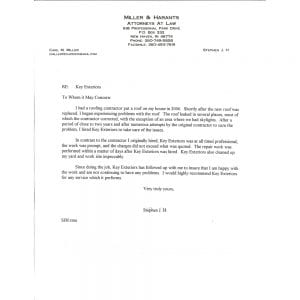 "To whom it may concern:
I had a roofing contractor put a roof on my house in 2006. Shortly after the new roof was replaced, I've been experiencing problems with the roof. The roof leaked and circle places, most of which the contractor corrected, with the exception of an area where we had skylights. After a period of close to two years and after numerous attempts by the original contractor the problem, I hired key exteriors to take care of the issues.
In contrast to the contractor I originally hired, key exteriors was at all times professional, the work was prompt, and the charges did not exceed what was quoted. The repair work was performed within a matter of days after key exteriors was hired. Key exteriors also cleaned up my yard and work site impeccably.
Since doing the job, key exteriors has followed up with me to ensure that I am happy with the work and am not continuing to have problems. I would highly recommend key exteriors for any service which is performs.
Very truly yours,"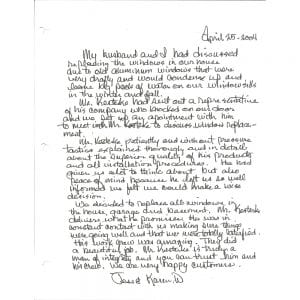 "My husband and I had discussed replacing the windows in our house due to old aluminum windows that were very drafty and would condense up and leave bid pools of water on our windows sills in the winter and fall.
Mr. Kesterke had sent a representative of his company who knocked on our door and we set up an appointment with him to meet with Mr. Kesterke to discuss window replacement.
Mr. Kesterke patiently and without pressure tactics explained thoroughly and in detail about the superior quality of his products and all installation procedures. He had given us a lot to think about but also peace of mind because he left us so well informed we felt we could make a wise decision.
We decided to replace all windows in the house, garage and basement. Mr. Kesterke delivers what he promises. He was in constant contact with us making sure things were going well and that we were totally satisfied. His work crew was amazing. They did a beautiful job. Mr. Kesterke is truly a man of integrity and you can trust him and his crew. We are very happy customers."