Testimonials
Here's what our customers are saying about us.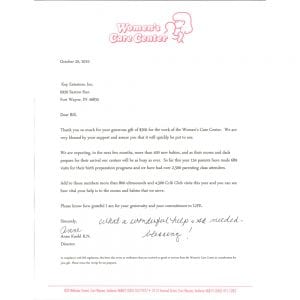 "Dear Bill,
Thank you so much for your generous gift of $500 for the work of the Women's Care Center. We are very blessed by your support and assure you that it will quickly be put to use.
We are expecting, and the next few months, more than 400 new babies, as their moms and dads prepare for their arrival our centers will be as busy as ever. So far this year a hundred and fifty-four parents have made 689 visits for their birth preparation programs and we have over 2,500 parenting class attendees.
Add to those numbers more than 800 ultrasounds and 4500 crib club visits this year and you can see how vital your help is to the moms and babies that we serve.
Please know how grateful I am for your generosity and your commitment to life.
What a wonderful help and so needed blessing!
Sincerely,"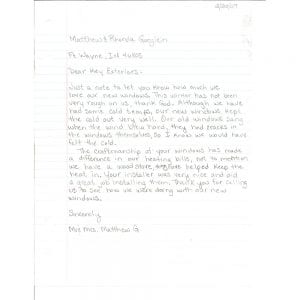 "Dear key exteriors:
Just a note to let you know how much we love our new windows. This winter has not been very rough on us, thank God. Although we have had some cold temps, our new windows kept the cold out very well. Our old windows sang when the wind blew hard, so I know we would have felt the cold.
The craftsmanship of your windows has made a difference in our heating bills, not to mention we have a wood stove, they have helped keep the heat in. Your installer was very nice and did a great job installing them. Thank you for calling us to see how we were doing with our new windows.
Sincerely,"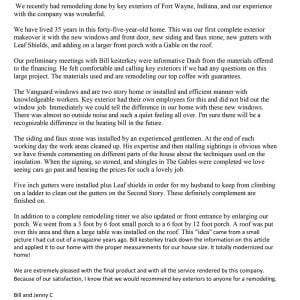 " We recently had remodeling done by key exteriors of Fort Wayne, Indiana, and our experience with the company was wonderful.
We have lived 35 years in this forty-five-year-old home. This was our first complete exterior makeover it with the new windows and front door, new siding and faux stone, new gutters with Leaf Shields, and adding on a larger front porch with a Gable on the roof.
Our preliminary meetings with Bill kesterkey were informative Dash from the materials offered to the financing. He felt comfortable and calling key exteriors if we had any questions on this large project. The materials used and are remodeling our top coffee with guarantees.
The Vanguard windows and are two story home or installed and efficient manner with knowledgeable workers. Key exterior had their own employees for this and did not bid out the window job. Immediately we could tell the difference in our home with these new windows. There was almost no outside noise and such a quiet feeling all over. I'm sure there will be a recognizable difference in the heating bill in the future.
The siding and faux stone was installed by an experienced gentlemen. At the end of each working day the work areas cleaned up. His expertise and then stalling sightings is obvious when we have friends commenting on different parts of the house about the techniques used on the insulation. When the signing, so stoned, and shingles in The Gables were completed we love seeing cars go past and hearing the prices for such a lovely job.
Five inch gutters were installed plus Leaf shields in order for my husband to keep from climbing on a ladder to clean out the gutters on the Second Story. These definitely complement are finished on.
In addition to a complete remodeling timer we also updated or front entrance by enlarging our porch. We went from a 3 foot by 6 foot small porch to a 6 foot by 12 foot porch. A roof was put over this area and then a large table was installed on the roof. This "idea" came from a small picture I had cut out of a magazine years ago. Bill kesterkey track down the information on this article and applied it to our home with the proper measurements for our house size. It totally modernized our home!
We are extremely pleased with the final product and with all the service rendered by this company. Because of our satisfaction, I know that we would recommend key exteriors to anyone for a remodeling."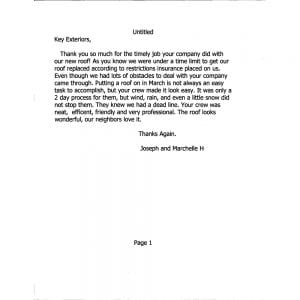 "Key Exteriors,
Thank you so much for the timely job your company dude with our new roof! As you know we were under a time limit to get our roof replaced according to restrictions Insurance placed on us. Even though we had lots of obstacles to your company came through. Putting a roof on in March is not always an easy task to accomplish, but your crew made it look easy. It was only a two-day process for them, but wind, rain, and even a little snow did not stop them. They knew they had a deadline. Your crew was neat, efficient, friendly and very professional. The roof looks wonderful, our Neighbors love it.
Thanks again."
"Dear Bill,
Just a note to tell you how nice are home looks with the new roof. We really love it.
You were prompt and sending us the check for the extra decking that wasn't used. That was great.
Ron and his work crew did a great job. They stripped the roof, replace what decking that needed to be replaced and put a new roof on in two days. They did a super job of cleaning the area. When they left everything I was looking good.
People drive by and look at the house, family and friends tell us how nice the roof looks. Which makes us very proud.
Ron and his crew did a few extra things on the roof for us. We are senior citizen and Ron said that he didn't want us to have to get on the roof for anything. Which made us feel like he and his crew really cared about us.
We truly think our roof looks great.
Sincerely,"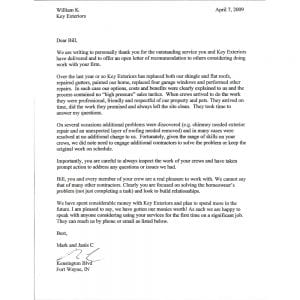 "Dear bill,
We are writing to personally thank you for the outstanding service you and key exteriors have delivered and to offer an open letter of recommendation to others considering doing work with your firm.
The last year or so. Has replaced both are single and flat roofs, repaired gutters, painted are home, replaced for garage windows and performed other repairs. In each case our options, costs and benefits were clearly explained to us and the process contain no quote high pressure in quote sales tactics. When Crews arrived to do the work they were professional, friendly and respectful to our property and pads. They arrived on time, did the work they promised a noise left the site clean. They took time to answer my questions.
On several occasions additional problems were discovered open parentheses e. G. Chimney needed exterior repair and an unexpected layer of roofing needed removed close parentheses and in many cases were resolved at no additional charge to us. Fortunately, given the range of skills on your cruise, we did note need to engage additional contractors to solve the problem or keep the original worked on schedule.
Importantly, you are careful to always inspect the work of your cruise and have taken prompt action to address any questions or issues we had.
Bill, you and every member of your crew are a real pleasure to work with. We cannot say that of many other contractors. Clearly you are focused on solving the homeowners problems open parentheses not just completing a task close parentheses and look to build relationships.
We have spent considerable money with Key Exteriors and plan to spend more in the future I am pleased to say, have gotten our money's worth! As such we are happy to speak with anyone considering using your services for the first time on a significant job. They can reach us by telephone or email is listed below
Best,"
"Dear Bill,
I am writing to express my appreciation to you and the members of your company for the excellent replacement Roofing result. From the first contact with the gentleman who came to my door introducing your company to your visit that was complete with inspection of my old roof, exclamation of materials and warranties available as well as the installation process and financing plans, to the final results, I have found your company to be thorough and professional with which to deal.
It has been a pleasure to do business with you. I am quite pleased that more than one of my cul-de-sac Neighbors have made arrangements to have you do the roofing, as well. Your quality product and insulation is enhancing the quality of our neighborhood.
I wish you the best of success with your business.
Sincerely,"